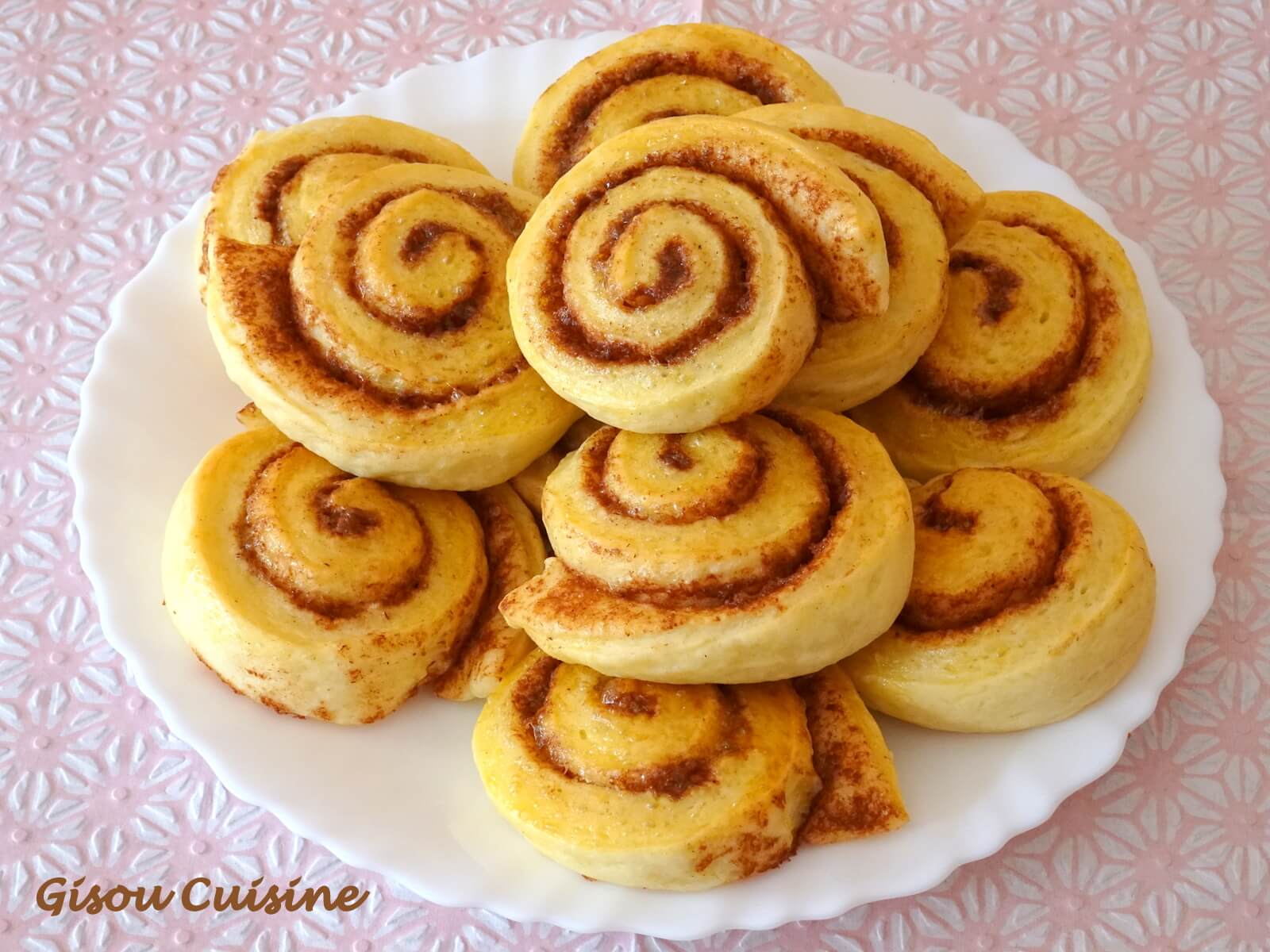 Cinammon Buns recipe
Cinnamon rolls are small rolls shaped like snails, filled with cinnamon. They make for a nice sweet treat during the winter months. Enjoy them warm along with a hot beverage. 😍
I created this recipe after watching a video by Chefs Simon and Nadia on YouTube.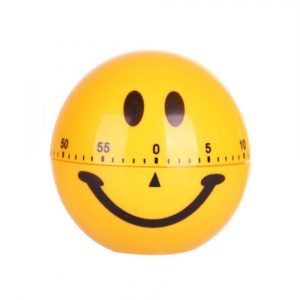 Prep Time : 30 min
Rising Time : 1h30 + 45 min
Cook Time :  15 min
Ingredients
Dough
3 cups (350 g) all-purpose flour
1/2 oz (15 g) fresh yeast
¼ cup (50 g) cane sugar
1/2 cup ~ 4 fl oz (120 ml) lukewarm milk
1 egg room temperature
1 egg yolk
¼ cup ~4 tbsp (60 g) unsalted butter softened to room temperature and cut into 8-10 pieces
1/2 teaspoon salt
Filling
¼ cup ~ 4 tablespoons (50 g) butter
2 ½ tablespoons (30 g) sugar
2 tablespoons ground cinnamon (about 10g)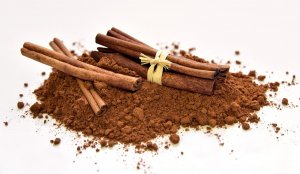 Remove 1 egg and ¼ cup of butter from the fridge about 1 hour before starting the recipe.
Step 1 : Dough (rising time 1h30)
In the bowl of a stand mixer fitted with the dough hook, add the flour, sugar, salt, fresh yeast, lukewarm milk and egg. Mix then add the softened butter and mix again.
Form the dough into a ball and place in a lightly greased bowl. Cover with plastic wrap or a damp towel and let rise in a warm spot for 1 hour 30 minutes.
Gently knead the dough to deflate it.
Roll out the dough on a floured work surface trying to form a rectangular shape.
Step 2 : Filling
Melt the butter, add the sugar and cinnamon then mix together.
Spread the cinnamon filling over the entire dough using a brush.
Step 3 : Rolls (rising time 45 minutes)
Line a large baking sheet with parchment paper.
Roll up the dough lengthwise, pressing firmly to seal.
Cut the rolls into 2 centimeters slices using a sharp knife.
Let the small rolls rise for about 45 minutes, covered with a tea towel.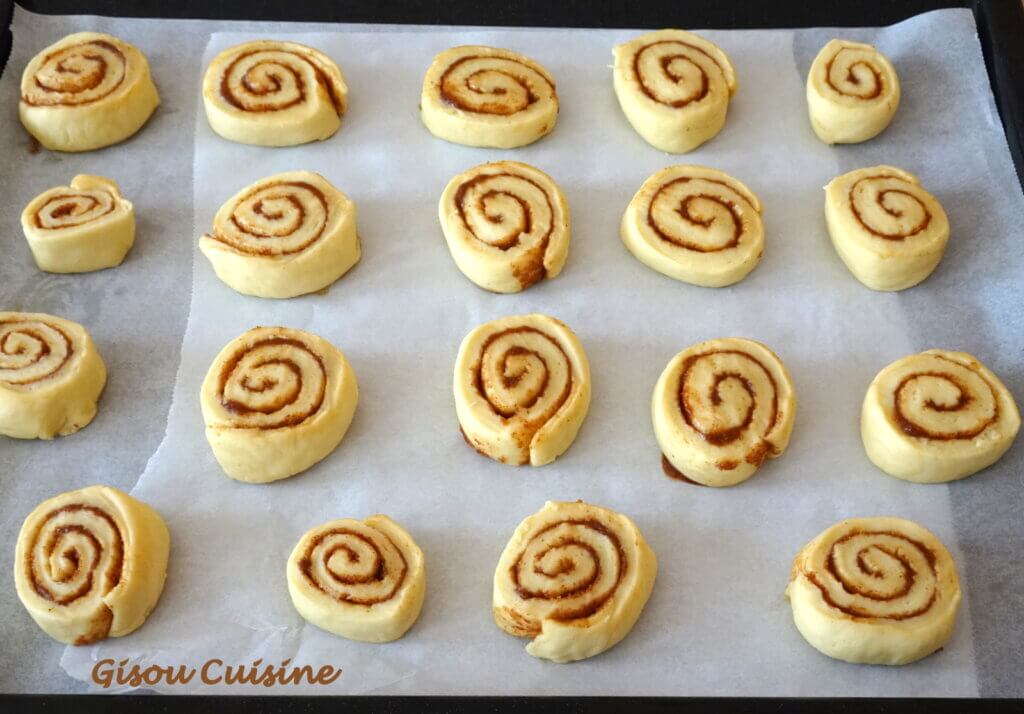 Step 4 : Baking
Preheat oven to 350°F (180°C). Beat the egg yolk and brush delicately over each roll using a brush.
Bake at 350°F for about 15 minutes until golden brown.
Enjoy these delicious cinnamon rolls !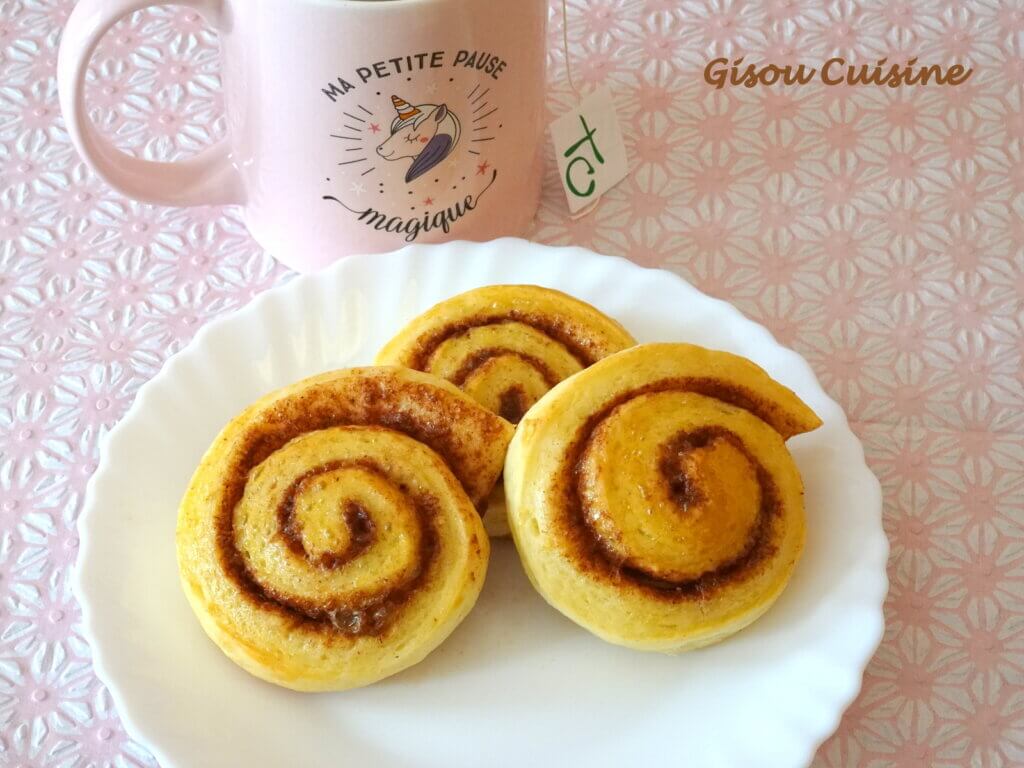 Gisou's Tips and Tricks

Fresh yeast, also known as fresh baker's yeast, is a widely used ingredient in France, especially by bakers and pastry enthusiasts. Il helps achieve a light and airy texture in recipes for brioches, breads, and other baked goods.
If you want to keep the buns for later, you can wrap them in plastic wrap and put them in the freezer as soon as they have cooled. When you'll take them out of the freezer, let them thaw for approximately 3 hours at room temperature, the cinnamon rolls will regain their softness.
French Cinnamon Rolls Recipe